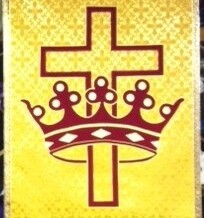 Here is a Custom Worship Banner with an embroidered triumphant crown for the Church of the Apóstolo in São Paulo, Brazil. Designed by Father Fernando Gardoso.
Esta es una Pancarta de Adoración con una corona triunfante hecho especial para la Iglesia de Apóstol en São Paulo, Brasil.  Diseñado por Padre Fernando Gardoso.
Aqui pode-se ver uma bandeira com crôa triunfante que foi feita para Iglreja de São Paulo Apóstolo em São Paulo Brasil.  Desenhada pelo padre Fernando Gardoso.
Continue Reading →
Share